Lawyers-BC.Com is primarily a web directory of lawyers and their areas of practice focus, e.g. business law, immigration law, personal injury law, employment law, family law, wills probate, real estate etc.
Information is power. But too often, clients feel powerless when facing a legal problem. At Lawyers-BC.Com, we can help you understand the law better, and equip you to make informed decisions when you need a lawyer. We bring the law to you.
---
Provenance / History of Lawyers-BC.com 1998-2009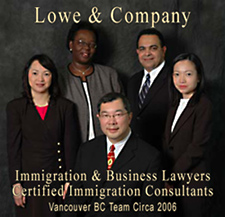 Lawyers-BC.com was founded by Jeffrey S. Lowe, B.Comm. LL.B. in 1999 who in 1998 recruited a team of lawyers (e.g. S. Chu, LL.B.) and information technology & web consultants (e.g. N. Chan, MSW, Lib.Tech.) & graphics professionals (U. Wong) to design and develop and manage the web site and early multimedia advertising services. Jeffrey continues in 2015 to be an inspirational business advisor to this site and heads one of Canada's leading Business-Immigration Law Firms based in Vancouver, BC, Lowe & Company CanadaVisaLaw.com. Jeffrey also continues to be well known as a lecturer and author of articles in various business-legal publications and legal-trade service conventions and organizations.
---
Finding lawyers with the right experience

We find experienced lawyers. Each lawyer listed under an area of law has confirmed to us that he or she has been practising law for at least three years and is experienced in that area. You should, however, independently evaluate any lawyer.

See "Lawyer's Listings" under our terms and conditions for more information.
Top of Page
---
Learning about the law

Lawyers in each category have written articles on different topics. You can search for articles related to your case, and find out which lawyers have experience in that area. You will also find answers to frequently asked questions, to help you understand your legal options better. This general information is not intended as a substitute for legal advice. For specific advice, we urge you to consult a lawyer.

Top of Page
---
Taking the mystery out of legal fees

Finally, we explain how legal fees are charged for your kind of case. Are they hourly rates? By the case? Percentage fees? What is a reasonable fee, and how can you save money?

Lawyers-BC.Com: Bringing the law to you!