R. Maria Raymond, BA JD joins McConnan Bion O'Conner Peterson, in Victoria, BC. as an Associate Her practice includes, Business-Corporate Law, Real Estate and Wills & Estates.
See her web profile at http://www.mcbop.com/-r-maria-raymond

The BC Law Schools Competitive Moot is an appellate competition between UVic, UBC and TRU. This year's question raised a fundamental issue of contract law.

This year's team was composed of Jane Mayfield and Diana Sepulveda as appellant counsel, and Erin Miller and Angela Barna as counsel for the respondents. Both teams won in their respective division, making UVic the winner of the moot.

Coaches were
- Kelly Doerkson www.wongdoerksen.com,
- James Legh and
- Michael Mark http://www.mcbop.com/michael-r-mark, s/a lawyers-bc.com profile

[above photo is a screen capture of https://www.uvic.ca/law/home/news/current/mooting-season-2019.php as of January 17, 2020]
---
Rose Keith to present at TLABC Life after CAPS: "Minor" Injuries Conference Harper Grey lawyer, Rose Keith, will present "Overview, Rules and Procedure" at the Trial Lawyers Association of BC (TLABC) Life after CAPS: "Minor" Injuries Conference. The Conference will take place at the Fairmont Waterfront Hotel on May 10-11, 2019. Register and learn more about the TLABC here. https://www.tlabc.org/index.cfm?pg=upcomingprograms
Friday - Saturday, 10 - 11 May 2019
Life After CAPS: "Minor Injuries"
Chaired by Keri Grenier, & Dr. Catherine Ho
Fairmont Waterfront Hotel Vancouver
9:00 am - 6:00 pm (Friday), 9:00 am - 1:00 pm (Saturday) , 10 CPD Credits
---
Rose Keith
is now an Associate with Harper Grey LLP, her practice profile and contact information can be seen at https://www.harpergrey.com/lawyer/rose-keith/
---
Personal Injury Claims Caps: Starting April 2019, ICBC "caps" - Explained by Hutchison Oss-Cech Marlatt lawyers
For more information got to: https://www.hom-law.com/resources/icbc-claims/icbc-caps-injured-info/

---

Adam Lewis, BA (Queens), JD (Uvic)
becomes associate lawyer with McConnon Bion O'Connor Peterson, Law Corp. www.mcbop.com in downtown Victoria, BC.
"Adam has experience in a variety of areas of law, including insurance litigation, contractual disputes, and personal injury claims. During law school he participated in the Gale Cup moot and represented low income clients at The Law Centre of the University of Victoria. Adam also has international experience; in 2016 he worked as a legal intern with the United Nations overseas."(quote from www.mcbop.com/-adam-lewis)
---
Business: Product Liability / Commercial Contracts / Consumer Class Actions
McPherson and Gard v. Volkswagen, Audi and Porsche

Action commenced in November 2015 for British Columbians arising from VW and subsidiary companies installing software in deisel engines that allowed them to pass government emisisions tests under the Canadian Environmental Protection Act but then turned emission controls off in real driving conditions, resulting in high and illegal levels of harmful emissions and causing loss of value of the vehicles and other financial losses to their purchasers. For more information go to www.brucelemer.com/class-actions/current-class-actions/
Felicity Schweitzer, is a lawyer, with a Master of Law degree from London UK and previous experience in: business transactions, intellectual property, advertising law, and consumer protection. She is with Lemer and Company, in downtown Vancouver working on consumer / commercial contracts / product liablity class actions.
Bruce Lemer, LLB, is one of the most experienced class action lawyers in Canada, being co-counsel in Canada's Tainted Blood Products and the Red Cross class action in the 1990s which resulted in the largest settlement of its time. See www.brucelemer.com/class-actions/overview/ for more information about both these lawyers and the services of this Vancouver law firm.

LEMER and COMPANY,
210 - 900 Howe St.
Vancouver BC
Canada V6Z 2M4

Phone: 604.642.6363
Website: www.BruceLemer.com
---
SABRINA YEUDALL,
Family & Employment Law
office in Nanaimo, BC, moving effective November 01, 2015, see her new web site at www.candidlegal.com for details.
New address will be:
#23 - 4800 N. Island Hwy.
Nanaimo, BC V9T 1W6
P: 250 585 1595
F: 250 585 1599
---
Charlotte Salomon, BA JD, Victoria, BC Wills & Estates Lawyer, interviewed by The Canadian Press for some background information on article.
"Paternity test of Gang Yuan, murdered millionaire, could mean millions for baby: DNA testing ordered on remains of man whose body was found chopped into over 100 pieces" Article By Tamsyn Burgmann, The Canadian Press - Posted: Jul 28, 2015 6:45 AM PT
[click on link below to read article on line]
---
---
SABRINA YEUDALL,
Family & Employment Law
office in Nanaimo, BC, moved May 2015, see her new web site at www.candidlegal.com for details.
---
Sandra Banister, Q.C.
Has over 30 years of experience:
· Personal Injury / ICBC injury claims compensation disputes
· Employment Law / Wrongful Dismissal cases
BANISTER & COMPANY
#670 - 355 Burrard St. (The Marine Building)
Vancouver, BC, Canada V6C 2G8
Phone: 604-662-7276
Phone Toll Free:
1-877-662-7276
Web site: BanisterLaw.com


Sarah N. Goodman,
Bachelor in Business Administration, York Univ. Schulich School of Business
Juris Doctor, Osgoode Hall, Toronto

· Article Hiring Foreign Workers - Canada's Temporary Foreign Worker Program: Introduction to factors for consideration published in BusinessMatrix.com
Sarah N.Goodman,
Barrister & Solicitor
Canada Immigration Legal Services
Victoria, BC Canada
Tel: tba
Web: tba
---
Alexandra Wong LLB, LLM, MBA
- WONG and ASSOCIATES
OFFICE MOVING Sept. 2014 to
Peninsula Business Centre
15388 - 24th Avenue,
Surrey BC.
Website: EngTechLaw.com
Denelle Lambert Law Office DenelleLambert.com in downtown Nanaimo, BC will take Legal Aid cases in family and child protection cases. Offers services also in employment law, CPP pension appeals etc. click for more info.
Rose Keith, JD RoseKeith.bc.ca articles for smartphone readers - on:
* http://bcpersonalinjury.org/articles/clients ... The Personal Injury Client: Preparing the client with an understanding of what they need for their trial (an article for lawyers to consider)
* SURVIVORS GUIDE TO ICBC: Understanding the basic procedures, rights and obligations when dealing with ICBC bcpersonalinjury.org/articles/ ICBC-basics ...

March 2014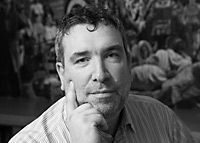 Harvey Meller, B.Sc. LLB, business and entertainment law lawyer offices now on West Broadway, in Vancouver CLICK FOR MORE INFO.
---
Nov. 2013
Elliot S. Holden, B.A., LL.B., joins Z. Philip Wiseman law corp, zpwlawcorp.com/our_team.html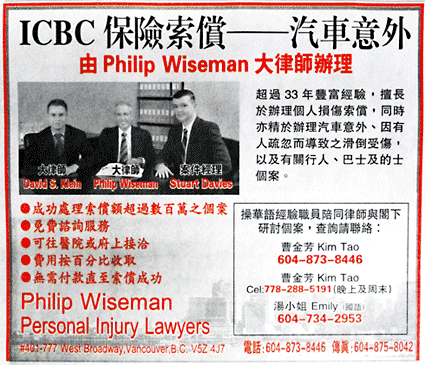 www.zpwlawcorp.com
Jonathan Hanvelt, MA LLB, with Banister & company BanisterLaw.com, in downtown Vancouver - joins Lawyers-bc.com see his profile at Wrongful Dismissal and Employment Law directory
Sept. 2013
Article by Rose Keith, employment lawyer on "Employers: Reasons to Call Your Employment Lawyer Before You Think You Need Them "
Updated July 2013
Gary McComb, LLB and Jeffey Whitten, LLB - "East" Vancouver law firm listed on Vancovuer personal injury lawyers directory
* * *
---
Updates June 2013
Sandra Banister, QC new website profile at BanisterLaw.com/sandra-banister-qc
---
"Introduction to Probate in BC" - article revised 2013.06.12
---
Anticipated changes to Wills and Estates Law - in 2014
brief overview of some anticipated changes in the new WILLS, ESTATES & SUCCESSION ACT to come into effect in 2014.
---
Article contribution to Lawyers-BC.com: " HOW TO WRITE AN AFFIDAVIT FOR A FAMILY LAW CASE"
by Jill Chapin, BA LLB
go to lawyers-bc.ocom/family/articles/affidavits-for-family-law-cases.htm Vancouver BC
Updates February 2013
2013.02 website updates at RoseKeith.bc.ca
Office Move
Dil Gosal, BA LLM JD
Criminal Defense and Personal Injury Lawyer
Grandview Corners Offices
#250, 2411-160th Street
South Surrey, B.C.
Canada, V3W 3A9
Phone: 604.719.1360
Website: GosalLaw.com
Announcements - News January 2013
January 2013 - Office Move


Lemer & Company
540 - 220 Cambie St.
Vancouver, BC
V6B2M9
Phone: 604.642.6363
Website: BruceLemer.com
---
Christian Höy, joins Business Incoporations area at lawyers-bc.com with his solicitors practice as part of McConnan Bion O'Connor and Peterson law corporation in downtown Victoria McBOP.com/our-lawyers/christian-hoy
---
Lowe & Company - Immigration Seminars in Singapore on January 5, 2013 Posted December 13th, 2012 www.canadavisalaw.com/blog

Canada needs skilled workers! And they are introducing new regulations to allow Tradesmen, Professionals and others to immigrate with their families, and even get fast tracked. Some of these programs include:

The Skilled Worker Program, based upon a point system; A Skilled Trades Program, requiring 2 years experience, English or French language, and either eligibility for Trade Certification or a job offer; The Canadian Experience Class, if you have worked in Canada for 1 year in the past 3 years; or The Provincial Nominee Program, which will allow you to obtain a work permit and immigration, with a Job Offer.

Canada also needs Business Immigrants! While the passive Investor Immigrant program is not accepting new applications, there are several options for businesspeople who wish to come to Canada to start or purchase a business.

Come to our free seminars on Canadian immigration delivered by our immigration lawyer, Robert Leong, and hear him speak about some of these changes and your options to immigrate to Canada.

Venue: Napier Room 502, RELC International Hotel, 30 Orange Grove Road, Singapore 258352 (near to Shangri-la Hotel)

Date: Saturday, 5 January 2013

Time: 9:15am to 10:15am (Skilled Worker Immigration)

11:00am to 12:00pm (Business Immigration)

As seats are limited, please register for the event by sending us an email at info@canadavisalaw.com with your name and preferred session(s
McConnan Bion O'Connor Peterson, Victoria downtown map to office of Personal Injury, Commercial Business, Real Estate, Family Law, Administrative Law and Wills & Probate lawyers at Map to Douglas & Courtney Street office
Hutchison Oss-Cech Marlatt, Victoria, BC, personal injury & intellectual property law firm
· Map to office
Rose Keith, BA JD contributes article to Lawyers-BC.com Personal Injury Section (July 14, 2012) about usefulness of cyclists using helmets in protecting them from traumatic brain injury
Kim Davis, LLB LLM joins McConnan Bion O'Connor Peterson in downtown, Victoria, BC providing general solicitor services: real state, wills & estates and samll business & employment law




F. Allen Melvin (Hon) joins Victoria law firm of McConnan Bion O'Connor Peterson Law Corp. McBOP.com personal injury litigation services team in January 2012.

---
Happy New Year of the Dragon! 2012
Bruce Lemer, Vancouver Personal Injury / Class Actions / Medical Malpractice / Professional Negligence lawyer launches new website BruceLemer.com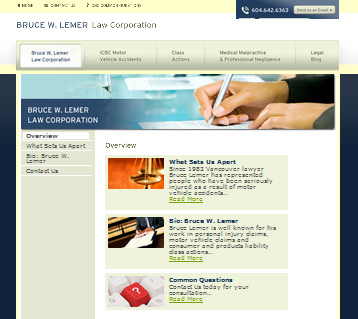 Geoffrey D. Simair, Victoria Criminal Defense Lawyer moves his offcie to hstoric downtwn Bastion Square, in Novmember 2011
Geofrey D. Simair Law Corporation 204 - 26 Bastion Square
Victoria, BC
V8W 1H9
www.simari-law.com email: geof@simair-law.com
Jennifer Lee, Intellectual Property: TradeMarks & Patents lawyer sets up own practice near Gas Town, in downtown Vancouver. see her web siteat www.pacificip.ca - December 2011 update.
Pacific Intellectual Property Group
200 - 375 Water Street Vancouver, BC
V6B5C6
Thompson Cooper ( aka Barrigar.com ), Intellectual Property: Patents & Trademarks lawyers in Victoria, closes its Vancouver branch offices, December 2011 update
McConnan Bion O'Connor Peterson Law Corp. in downtown Victoria, increases its family law services with fluently bilingual (English & Spanish) family lawyer BEATRIZ CONTRERAS, LLB LLM in 2011 see www.mcbop.com/our-lawyers/beatriz-contreras
Michelle E. Guy, Family lawyer, moves her practice from Victoria to New Westminster, December 2011 update
Quay Law Centre
Suite #300 - First Capital Pl.
960 Quayside Drive
New Westminster, BC
V3M 6G2
Phone: 604 527-1161
Z. Philip Wiseman, Vancouver Personal Injury Lawyer, updates profile
---
Lowe and Company, barristers & solicitors
Present a seminar: Wills, Powers of Attorney, and Representation Agreements at Westwood Community Church, in Coquitlum, BC - Nov. 22, 2011. Lawyers making presentation included Jeffrey S. Lowe, Robert Leong and Leticia Siu.
#900 - 777 West Broadway,
Vancouver, BC
For more information about their services go to LoweAndCompany.com
---

Fred C. Lowther Family Law has moved as of 1 September, 2011


our new address is: 1030 Howe Street
Vancouver BC V6Z 1P5
telephone is: 604-682-6333
---
2011 June updates
ANNA PERRY'S office location is changing EFFECTIVE JULY 1, 2011

The new offices of Anna Perry will be
WESTSIDE FAMILY LAW
#420 - 1367 West Broadway
Vancouver, B.C. V6H 4A7
[ @ Hemlock Street east of Granville}
Telephone: 604-734-7911

As of July 1, 2011, Mark G. Perry Law Corporation will be doing business as:
WESTSIDE FAMILY LAW
Located at:
#420 - 1367 West Broadway
Vancouver, B.C. V6H 4A7
( @ Hemlock Street east of Granville ) Telephone: 604-734-7911
---
2010 October updates
Jenifer Chilcott, LLB LLM, Technology Law and Commercial Law, now with FARRIS downtown Victoria Office
FARRIS, VAUGHAN, WILLS & MURPHY LLP
Suite 1100 - 1175 Douglas Street
Victoria, BC
Canada, V8W 2E1
Phone: 250.405.1987
Naomi McKay, BA LLB, Family Law, moved to new office in Bastion Square, Victoria. Victoria
2010 July 01, updates
2010 Feb. updates
Business Class Immigrant Services from CanadaVisaLaw.com
2009 Oct. updates
---
2009 Sept. updates
ADDRESS CHANGE

PERRY, Anna, LL.B
Mark G. Perry Law Corporation - in association with Kerr Redekopp Leinburd and Boswell
KERRISDALE OFFICE:
#300 - 5687 Yew St. (at 41st Ave. W.) Vancouver, B.C. V6M 3Y2
Telephone: 604-568-8785;
Facsimile: 604-568-8545;
Email: aperry@mgperry.com
PREFERRED PRACTICE: Family law: negotiation of prenuptial, cohabitation and separation agreements (price is approx. $2,500 plus taxes, depending on level of complexity and co-operation) with utmost attention to detail, including high net worth family and corporate assets. Specializing in negotiated resolutions to separation and divorce. Including issues re: same-sex couples; foreign marriages; and common law relationships.
---
2009 June updates
Portia Tang, LLB , opens new office in Market Square in the "OLD TOWN" area of Victoria she continues to develop her solicitors practice and is seen as a new legal resource to the growing Mandarin speaking population who have immigrated and are immigrating to Victoria from the People's Republic of China and Taiwan.
---
2009-May updates
Bailey McLean, has moved to adjoining Office Tower:
900 - 4720 Kingsway
Metrotower II
Burnaby, BC
V5H 4N2
Tel: 604-437-6611 Fax: 604-437-3065
2009.04 updates
Baily McLean, business & civil litigations lawyers in Burnaby's Metrotown Tower 1 - moving to adjoining Tower II , in early May, 2009. See the profile of this 30+ year law firm based in the heart of the Metrotown area
Jennifer Lee, LLB Registered Trademarks Agent & Registered Patents Agent is primary lawer in Vancouver offices of Thompson Cooper LLP, go to Trademark area for more info about Ms. Lee and former members of Barrigar Intellectual Property Team
Bruce Redekop, announces updates to his profile on Lawyers-bc.com with particular note on his website VenturesLaw.com
Sorel Leinburd, Vancouver business development, technology and intellectual property lawyer notes updates to his profile
---
Canadian Bar Association, B.C. Chapter - Public Announcement
Vancouver Law Day

ACCESS TO JUSTICE - PUBLIC CONFIDENCE IN THE JUSTICE SYSTEM

Vancouver, BC - Law Day 2009 will provide the public with the opportunity to learn about the law, the legal profession and the legal institutions that form the cornerstones of our Canadian democracy.
On Saturday, April 25th from 10AM to 3PM all residents of the Greater Vancouver area are invited to come down to the Central Vancouver Public Library, located at 350 West Georgia Street (between Homer, Hamilton and Robson Streets).
At Law Day, the public can learn what the justice system is doing to keep us safe on the streets and in our homes while upholding the rights of all Canadians under the Charter of Rights and Freedoms.
see the schedule of events - click to pdf document here!
---
The Law Day activities will include a public forum featuring CBC broadcaster Ian Hanomansing as the moderator and a panel consisting of:
The Honourable Chief Justice Brenner, Supreme Court of British Columbia
The Honourable Chief Judge Stansfield, Provincial Court of British Columbia
Superintendent Warren Lemcke, Vancouver Police Department
Assistant Commissioner Peter German, RCMP
Peter McKnight, Columnist, The Vancouver Sun
The panel will not only provide open and frank presentations, but they will also answer the questions put to them by the members of the public in attendance.
The Law Day Open House will also include informative displays from a variety of legal organizations, free law classes courtesy of the People's Law School, and a Citizenship Ceremony presided over by Chief Justice Finch.
On Law Day, the Canadian Bar Association British Columbia Branch will also hold its province-wide "Dial-A-Lawyer" as part of Law Week. Lower Mainland residents are invited to call 604.687.3221 between 10:00 am and 2:00 pm to speak with a lawyer for up to 15 minutes at no cost.
---
VANCOUVER BAR ASSOCIATION NOTICE
ANNUAL JUDGES' LUNCHEON

To honour recent appointments to and retirements from the Court of Appeal, Supreme Court and Provincial Court of British Columbia.

Date: Wednesday, May 17, 2006
Time: Reception - 12:15 p.m., Lunch - 12:45 p.m.


Place: Pacific Ballroom, Hotel Vancouver
900 West Georgia Street, Vancouver, BC

Price: $45, payable to Vancouver Bar Association ( Includes GST - GST Registration No. RI-272-78000 )

To order tickets, please see the full advertisement on the VBA Website: www.vancouverbar.ca/whatsnew/jlunch06.pdf
Excerpts from Spanish masters thesis of Caroline Bergeron published on IP Law section of CanadaLegal.info
Caroline Bergeron, B.C.L., LL.B., LL.M. Victoria Intellectual Property, Technology, Corporate-Commercial Lawyer, fluent in Spanish, English and French profiled in Lawyers-BC.com 2005.05.19
Lorenzo G. Oss-Check BSC LLB, Victoria Intellectual Property / Information Technology and Personal Injury Lawyer joins beta-tests Lawyers-bc.com listings 2006.05.14
Jeffrey S. Lowe, Vancouver Business Immigration Lawyer to speak at Canadian Institute Conference on
Employing Foreign Workers -- Filling the Skills Shortage in the West
Monday, September 18, 2006 to Tuesday, September 19, 2006
Hyatt Regency , Calgary, AB, Canada
www.canadianinstitute.com/Legal/Employing_Foreign_Workers.htm

Jeffrey announces new web site: CanadaTradeJobs.com "The mission of Canada Trade Jobs is twofold: To help Canadian companies recruit, qualify, and hire foreign tradesmen; and To help foreign tradesmen to work in Canada by assessing their skills, finding jobs for them, obtaining work permits for them, and assisting them to settle in Canada."


Paul G. Scambler, QC well known Victoria lawyer, joins our Wills and Estate Lawyers listings and also Victoria Real Property / Real Estate Services Directory (2006.04.28)
Thomas (Tom) B. Doust with his downtown Vancouver criminal law practice joins the Criminal Law - Preferred Area of Practice Directory (update 2006.04.25)
Colin K. Campbell with 33 years of civil litigation: corporate-commercial / creditor-debtor legal services, joins Lawyers-BC.com directory (update 2006.01.25)
Gordon Zenk offers Personal Injury, Criminal Defense and Real Estate Law services, joins Lawyers-BC.com directory (update 2006.01.25)
French-English Language Immigration Services offered by Pauline Anthoine, LLB with preferred area of practice in Canada Immigration Law, with Campbell Learn Zenk in Burnaby (update 2006.01.13)
Romanian Language Services offered by Vancouver Canada Immigration Services lawyer see article by Catalin Constantin Mitelut, barrister and Solicitor "Sponsorare de Parinti si Bunici Pentru Imigrare in Canada" Mitelut & Company, Law Firm Suite 926 - 470 Granville St. Vancouver, BC V6C 1V5 at www.canadalegal.info ref-canada-immigration/sponsoring-parents-etal/sponsoring-parents-romanian-translation0511.html (update 2005.11)


VANCOUVER BAR ASSOCIATION NOTICE · VBA NOTICE TO MEMBERS:
Look for the VBA membership renewal in the next edition of The Advocate.
You can also download the 2005/06 renewal form from the VBA Website:
www.vancouverbar.ca/forms/mrenewal.pdf
Criminal Defence Lawyer, Dil Gosal, JD, LLM - writes article The Purpose and Origin of the Grand Jury in the USA for CanadaLegal.info a useful backgrounder for Canadian's wanting to compare the US Jury system and Canada's Criminal Courts.
8 Aug 2005 Subject: Please update links to LSS
The Legal Services Society has updated its website back end to a content management system. As a result, all our page names now have the ".htm" suffix instead of the ".asp" suffix. For example, http://www.lss.bc.ca/legal_info/law_line.asp is now www.lss.bc.ca/legal_info/law_line.htm
Jeffrey Lowe annouces major update and new information pages about Canada Immigration on website at CanadaVisaLaw.com 2005.08.10
Canada's Criminal Law and The Jury System Article by Dilraj S. Gosal, BA, LL.M, JD published 2005.08.02 at CanadaLegal.info articles explaining the law. The article covers - | Sources of Canada's Criminal Law | Category of Criminal Offences | Levels of Court | Jury System |
Alexandra C. Wong, LLB, LLM, MBA International/Cross-Border Business & Technology Lawyer has new offices in Richmond, BC Global Business Lawyers Directory She also continues her New York city law office associate practice in business law.
Catherine Morris, LL.B., LL.M. Victoria based conflict resolution, ADR practioner, participates in "beta testing" Lawyers-BC.com services in Victoria lawyers ADR section of Directory
Michael R. Mark, Victoria civil litigation lawyer now profiled on new Victoria area Lawyers-BC directory
Mr. Sandy Kovacs, plaintiff's counsel, Grant Kovacs Norell, on proposed class action on loss of sperm donations / sperm-bank-failure by UBC Fertility Endocrine Clinic, Division of Reproductive Endocrinology & Infterility, Dept. of Obstetrics and Gynaecology, Faculty of Medicine, Vancouver Hospital & Health Sciences Centre. [update 2005.06}
Arthur Grant, plaintiff's counsel, Grant Kovacs Norell, Halvorson V Medical Services Commision of BC [Emergency Room Physicians v MSP]
Criminal lawyer - Dil Gosal joins Lawyers-BC.com in 2005 as a participating member of our directory services.
His lawyer's profile can be seen at members profile.
Dil is a lawyer & counselor-at-law / attorney for BC Canada and Washington State USA Courts
A legal resource for those cross-border car accident / DUI / personal injury legal cases with both JD (Juris Doctor) and a LL.M. (Master of Laws in Criminal Litigation) degrees from Washington and New York Universities. Dil is fluent in English and Punjabi
John Weller, Pacific Polygraph Services - has MOVED
New address:
John I. R. Weller
certified since 1973 (lie detection / truth verification court-expert services)
#95 - 1687 West Broadway
just west of Burrard/Pine and Broadway
Vancouver, BC V6J 1X2 Canada
Telephone: 604 669-5945
email: tbc
see advertisement in Vancouver Criminal Lawyers Directory

Gordon Zenk & Colin Campbell of Campbell Learn Zenk, full service law firm reminds people of their services to Surrey residents from their central offices in Burnaby. Lawyers-BC.com Surrey Directory [June 2005]
Criminal Defense Lawyers & Attorney at Law, Dil Gosal joins Lawyers-BC.com see more about this Surrey based lawyer who has training in BC, Washington State and New York State. Dil represents clients in BC and is licensed to practice in Washington State. An ideal lawyer in dealing with cross border legal matters. [May 03, 2005]
Proposed Certification sought for Class Action lawsuit over cell phone charges against Telus Mobility / Communications by Vancouver lawyer Bruce Lemer, March 09, 2005
Lowe & Company offers increased immigration and other services as 3 members of paralegal staff become licended members of the Canadian Society of Immigration Consultants, in addition they now provide more services in helping clients establish their businesses, resolve disputes and handle their estates.
Wills & Estate Lawyers
Dellis Rand, Richmond law practice, restricted to Wills & Estate law
Wrongful Dismissal & Personal Injury Lawyers Toll Free Phone Numbers
Sandra Banister, Vancouver Offices 1-877-662-7276.
Personal Injury Lawyers Toll Free Phone Number
Rose Keith, Vancouver Lawyer 1-888-651-6638
see her Lawyers-BC.com profile
Canada Immigration Lawyers Lowe & Company, Vancouver offices moved to ninth floor (same building) - now at Suite 900 - 777 West Broadway, Vancouver, BC.
to to Lawyers-bc.com profile of Jeffrey Lowe
see also CanadaVisaLaw.com for this immigration law firm's Canadian services
Vancouver Criminal Defense - Preferred Area of Practice - Directory being updated Aug. 20, 2004 - go to lawyers listings
Vancouver's Pacific Polygraph Services Ltd. becomes an page-sponsor for BC Criminal Lawyers section
Vancouver Family Law Practice Directory being updated Aug. 2004 - go to lawyers listings
Labor lawyer Sandra Banister, added as additional Vancouver resource in Wrongful dismissal lawyers section
Vernon, BC area lawyers listings (2004 updates) Vernon area Lawyers practising: personal injury | criminal law | employment & labour law | family law & mediation | general civil litigation |
Rose Keith, Vancouver Personal Injury and Employment Law, lawyer profiled in Lawyers-BC.com downtown lawyers 2004 beta
Rose Keith has articles for lay readers featured in CanadaLegal.info
Personal injury and ICBC claims
B.C. Employment Law & Wrongful Dismissal
Bruce Lemer, Vancouver Class Action, Products Liability, Professional Negligence, lawyer profiled in Lawyers-BC.com 2003 downtown lawyers beta
Canada Immigration Sept.18, 2003 Canada's Immigration Minister makes announcement regarding 100,000 backlog of immigration applications - Reducing Point Total requirements - impact on SKILLED WORKERS CATEGORY
see also Independent Skilled Worker Immigration Lawyers-BC.com
Remember John Travolta in "A Civil Action"? Find out about "Class Actions" in B.C..


Learn about the process of suing someone in B.C. in our new "Civil Litigation" section.


What do you do when you've been charged with an offence? Find out at our new "Criminal Law" section.


While it's said that "A good name is better than great riches", a good trademark can yield great riches as well. Find out more under "Trademarks".


Being persecuted in your homeland for religious, political or ethnic reasons may be grounds for a refugee claim. Find out more in our "Refugee Law" section.


Considering a condominium? Learn the aspects of buying a condo in our new "Buying or Selling a Condominium" section.


Find that perfect location for your cappuccino bar? Look before you lease at our new "Commercial Leases" area.


Think that your doctor has mistreated you? Find out about "Medical Malpractice".


An off-colour joke, a bigoted supervisor, a biased pay scale. These could all lead to discrimination complaints under B.C.'s Human Rights Code. See our "Human Rights in the Workplace" section.


How much is a good idea worth? Our "Franchise Law" section offers some tips about buying the right to use a company's business systems and brand name.


Whether you're an employer or an employee, learn about the rules for your workplace under the Employment Standards Act.


Learn more about divorce, maintenance, and dividing property in our "Family Law" section. Solid information during turbulent times.


Deciding to start a business with a friend? Our new "Partners and Shareholders" area will give you some tips on spelling out your promises.


For the workplace: the law of wrongful dismissal. We even have an article on wrongful resignation.


We've just launched "Buying or Selling a Business" to guide you through the perils of doing just that.


Meet Rich Robinson, a wills and estates lawyer who also handles personal injury cases. And we welcome Philip Wiseman, a personal injury lawyer. They're in good company here with immigration lawyers Andrew Wlodyka and Jeffrey S. Lowe.


Find out what to do if you're in a motor vehicle accident. See our Personal Injury - ICBC section.


Other recent areas added include Incorporations and Probate and Estates.