MICHAEL R. MARK
Barrister & Solicitor,
B.A., LL.B.


Preferred Areas of Practice:
Michael has extensive experience in both civil litigation, in Personal Injury (e.g. ICBC claims disputes) and in criminal litigation as a former Federal prosecutor in Canada Revenue Agency complex tax evasion prosecutions.
Michael has practiced in Victoria since his admission to the Bar in 1991 and he became a principal at McConnan, Bion, O'Connor & Peterson Law Corporation in January 2000. He is also a past executive member of the Victoria Bar Association www.vicbar.ca.


In 2019 he was one of the coaches of the University of Victoria, law school moot competition teams, which won the provincial competition - click for photo and details below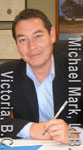 In 2007 Michael became a contributing content development editor/consultant to the Wills Information Section of Lawyers-BC.com/wills


Michael R. Mark
Barrister & Solicitor
McConnan, Bion, O'Connor & Peterson Law Corp.
Suite #420 - 880 Douglas Street,
Victoria, B.C. Canada V8W 2B7
Phone 250-385-1383
Toll free 1-888-385-1383
E-mail: mmark@mcbop.com
Web Site: McBOP.com/michael-r-mark
Map to office: Victoria, downtown location
* * * * * * * * *
Wills Disputes
"If you have been treated unfairly by a deceased parent or spouse under the terms of his or her will, consider obtaining the advice and assistance of an experienced estate litigation lawyer. Wills can be varied by the court to ensure adequate, just and equitable provision for a spouse or child of the deceased."
For more information go to http://www.mcbop.com/estate-litigation