JEFFREY S. LOWE,
B.Comm., LLB.
Canada immigration & business lawyer fluent in English, Mandarin & Cantonese Chinese. Jeffrey is the Chief Inspirational Officer of Lowe & Company, with 30 years experience with clients from 70 countries come to Canada: to establish businesses, work, study, or be united with families.
Jeffrey acts for business people, local and multinational firms, educational institutions, other law firms and also teaches Canada immigration seminars. His team of lawyers & Regulated Canadian Immigration Consultants (RCICs) are seen in this photo.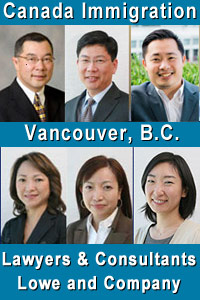 LOWE & COMPANY
(service in English, Mandarin & Cantonese Chinese or Japanese)

#900 - 777 West Broadway,
Vancouver, BC, V5Z 4J7
Canada
Phone: 604.875.9338

Email: info @canadavisalaw.com

Website in English: CanadaVisaLaw.com

Website in Chinese: CanadaVisaLaw.com/ch
Chinese "About Us" Section 关于我们

Jeffrey says the main task is: 我们的主要目标就是为了简化客户的生活。"刘国雄律师事务所首席资深大律师


---

STANLEY LEO
BA JD
Vancouver Immigration Lawyer for:
- Skilled workers & Express Entry,
- B.C. Provincial Nomination Program,
- Spousal Sponsorships,
- Work authorizations,
- Clergy / Religious Workers,
- Overcoming inadmissibility matters
West Broadway offices, Vancouver, BC CanadaVisaLaw.com


---
Bruce Harwood,
BA MA LLB
Bruce act's on behalf of a number of major Canadian companies in various sectors: biotechnology, engineering and manufacturing, food and agriculture, and the IT sector. As a former Officer of the Department of Citizenship and Immigration, Bruce brings in-depth legal insights of all aspects of immigration matters.
Bruce's Immigration & Citizenship practice also involves working with Boughton Law's Tax and Employment Groups to provide a comprehensive assessment of a foreign national's needs. He also assists clients with issues of criminal or medical inadmissibility and has appeared before the Immigration Appeal Division and Federal Court of Canada.
We can serve our clients in Mandarin, Cantonese and Russian languages
Bruce J. Harwood
Shareholder,
Boughton Law Corp.
Suite 700 - Burrard Street
P.O. Box 49290
Vancouver, BC
Canada V7X 1S8
Phone: 604 605 5628
Email: bharwood@boughtonlaw.com
Web: https://www.boughtonlaw.com/ people/bruce-harwood/
---
SABA Z. NAQVI, BA JD
Saba practices in the areas of U.S.
and Canadian immigration law and is licensed to practice law in the State of California and the Province of B.C. Was Chair of American Immigration Lawyers Association (AILA), Canada Chapter in 2009-2010. She also authors the Immigration Chapter in the Annual Review of Law & Practice published by the Continuing Legal Ed, Society of BC.
She is a co-founder of Boughton Law's Cross Border and Immigration practice groups.
Saba represents corporations and individuals in a wide range of U.S. and Canadian immigration and citizenship matters - with experience in the:
biotechnology,
engineering,
manufacturing,
food,
agriculture, and
IT (information technology) sectors
Her immigration practice includes:
applications for temporary and permanent residence including applications for work permits, NAFTA based applications including TN status and intracompany transferee applications,
British Columbia Provincial Nominee Program (BC PNP) applications,
immigrant investor cases for permanent residence in Canada or
Green Card status in the United States,
spousal sponsorships and citizenship matters.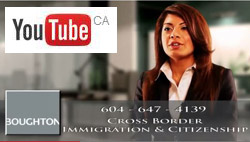 Hear Saba on Youtube talk about Cross Border travel for B.C. businesses at https://www.youtube.com/ watch?v=PjzgSrnGcho
She regularly represents clients with cross border inadmissibility issues including
U.S. waivers, applications for criminal rehabilitation and temporary resident permits.
Saba often advises businesses on navigating cross border customs issues such as, importing and exporting goods between Canada and the United States.
Saba Z. Naqvi
Associate Counsel
Boughton Law Corp.
Suite 700 - Burrard Street
P.O. Box 49290
Vancouver, BC
Canada V7X 1S8
Phone: 604 647 4139
Email: snaqvi@boughtonlaw.com
Web: https://www.boughtonlaw.com/ people/saba-naqvi/
---
---
Naseeb Kahlon, JD, serves clients in Hindi, Punjabi and English; from her Vancouver office
Kahlon Law
Phone: 604-336-8650
Email: nkahlon@kahlonlaw.ca
Web:&nbsp www.kahlonlaw.ca
#600-1285 West Broadway,
Vancouver, BC, V6H 3X8

---
Andrew Z. Wlodyka
Immigration Lawyer,
Vancouver, BC, Canada
Andrew has a practice focus on Immigration Appeals and Litigation, expereienced representing clients from Immigration Tribunals to the Federal Court of Canada
---


Sarah N. Goodman, BBA JD fluent in French and English, based in Victoria, BC. Experienced in Canada Immigration Law and BC employment law.


Sinclair Mar
Canada Immigration Lawyer
Victoria, BC
Sinclair speaks English and Cantonese
說廣東話
His law practice also includes real estate conveyancing and wills.
---
Portia Tang, LLB
Market Square, Johnson St., Victoria
Canada Immigration Services in
English,
Mandarin 講普通話
Cantonese 說廣東話
---
see also Victoria Canada Immigration Lawyers Directory