Each lawyer listed below has confirmed to Lawyers-BC.Com that he or she has been practising law for at least 3 years, and has had, in the past, at least 20 per cent of his or her practice in commercial leases, in combination with business development and other corporate-commercial legal services.
We urge you to independently investigate and evaluate any lawyer. Please see "Lawyer's Listings" under our terms and conditions for more information.




Metro Vancouver · Burnaby Commercial Lease Lawyers

Sorel Leinburd, boutique firm lawyer focused on Corporate Law, Intellectual Property Law and Commercial Business Transactional Law - click on image of his website Leinburd.com below to go to his site for more information.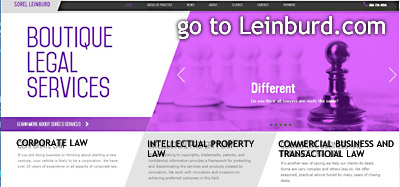 Based in Metrotower 2 in the Metropolis At Metrotown mall complex, see Frank Bailey or Brent McLean for commercial lease contracts, draw from their 40 years of experience in working in the Burnaby and surrounding MetroVancouver region.
Web site: www.bmgm.com


Bruce D. Redekop, BA JD- Bruce is skilled in area of commercial leasing and has acted for landlords and tenants on all aspects of leasing, including:
· negotiating offers,
· lease agreements,
· lease renewals,
· lease disputes,
· damages claims,
· enforcement issues,
· rent distress,
· and termination.
See his Redekop Law Corporation website at VenturesLaw.com.



Florence T. Wong, BA LLB
Vancouver lawyer fluent in Mandarin and Cantonese Chinese, experienced in commercial lease contract law.

Go to her practice profile by clicking here.

Bruce D. Redekop, BA JD
Bruce has over 30 years experience in business law, having guided companies at all phases, from
start-up,
growth and development,
mergers,
acquisitions,
and sale
or asset disposition.
Bruce is an experienced businessman and has operated product development companies and participated in a number of business ventures with entrepreneurs. His approach is down to earth, creative and results oriented. Bruce enjoys working with professionals to achieve maximum value for clients. His primary practice areas are:
Business Organizations
Business Transactions
Contracts
More about Bruce D. Redekop
Kerr Redekop Lienburd, barristers and solicitors, experienced in business and technology law
1333 West Broadway, Vancouver, BC




FLORENCE T. WONG, BA, LLB

中 文 普 通 话 / 廣 東 話 ,

Over 30 years experience in Corporate-Commercial Law, Real Estate Law and Commercial Leases. She also has a considerable practice for clients with their wills and estate work.

Florence has extensive experience closing residential and commercial real estate transactions and she has also acted for both Landlords and Tenants in many commercial leasing matters. Florence also represents financial institutions in drawing mortgages and other financing documents.

Her practice areas include:
· Business Purchase & Sale
· Commercial Financing
· Corporate Financing
· Incorporations
· Lease Law
· Probate
· Real Estate Transactions
· Trademarks
· Trusts
· Wills
Serving clients in Mandarin & Cantonese Chinese & English

Florence T. Wong,
Barrister & Solicitor
Kerr Redekop Leinburd
410 - 1333 West Broadway,
Vancouver, BC V6H 4C1
Tel: 604-734-4554 Email: fwong@krlb.com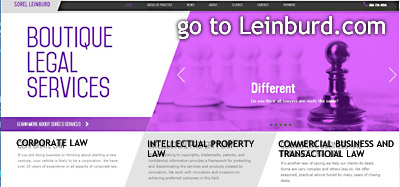 Sorel Leinburd, BA LLB
A business lawyer with a focus on:
· corporate/commercial law,
· information technology, and
· intellectual property.
Sorèl's IT experience includes computer software development agreements, technology licensing, a range of internet and e-commerce agreements, distribution and representative agreements, confidentiality agreements, employment and consulting agreements. His IP experience covers trademarks, trade secrets and copyright matters.

On the corporate and commercial side, Sorèl's experience includes company formation, shareholders and partnership agreements, sales and acquisitions of businesses, financing, commercial leasing, corporate restructuring transactions, and a broad range of business contracts.

Sorèl's clients include small and medium-size businesses and entrepreneurs at all stages of development including start-ups and growth companies. Representative clients and their scope of activities include software and hardware development, technology development & manufacturing, technology marketing, food, clothing & product manufacturing, commercial real estate holding companies, and professionals including medical doctors, dentists, architects and lawyers. Sorèl is also regularly engaged by other lawyers to provide professional services to their clients.
Sorel Leinburd
Kerr Redekop Leinburd,
#410 - 1333 W. Broadway,
Vancouver, BC
V6H 4C1 Canada

phone: 604-734-4554;
email: sorel@krlb.com web: www.Leinburd.com